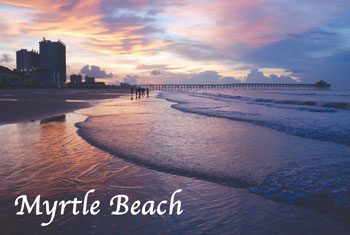 Its always so hard to come back from vacation. With us when we are away, we really try to not to make any timed plans. We wing things a lot and it is so nice for a change! I cringed this year when some of the extended family wanted to make dinner plans for a couple of nights. I'm fine with dinner plans but can we just play the time by ear???!!!
Some days we went on the beach and or pools at 9:30 and stayed till after 6. Other days we didn't get out till 11 and came in by 4. That is vacation to me, do what you want, when you want to, eat whatever and whenever you want. So that's pretty much the way we did vacation and it was wonderful!
Jim's Cousin decided to plan an informal family reunion for a week in Myrtle Beach. Anyone who could come was welcome and they had several activities and dinners planned and if you could make it you did and if not you didn't. Most people stayed at the same place. We stayed at a resort we have been to before and have loved. Being that I am very particular with where I stay this worked great for us. There were 27 people that traveled from 7 different states to attend, the furthest being Nevada. I met many of Jim's relatives I have never met before and others we don't see to often.
Myrtle beach is a long drive with stops and such its around 9 to 10 hours. We left at 3:30 am and got their around 1:30 pm. As soon as we touched the ground we unpacked and went right to the beach and pools. If you have ever been to Myrtle beach you know that most of the nicer hotels are like full blown resorts and have multiple pools, Jacuzzi's, lazy rivers, and palmetto trees which makes you feel like you are on an island somewhere super far away.
The weather was HOT!!!! To the point that during the day you pretty much had to be in the water most of the time or you would be miserable. That is saying a lot coming from someone that does NOT like to get their hair wet in public! (that's another one of my quirks!
Our room slept 8 and we had 6 and a baby. So it was Jim, me, Savanna, Taylor, Mitchell, Kaylee and her baby Jaxson. It was a little close quarters but worked out very well. Jaxson loves to sleep so we all got plenty of that while he was asleep, but while he was awake, WOW is he a handful!
Everyday was sunny so we were able to get LOTS of beach time in. Mitchell and Taylor were obsessed with finding sharks teeth or other treasures in the water and sand.
The Pokemon Go craze started right before we left so Myrtle was running around Myrtle Beach to catch them. He said there were tons on the beach! lol
The girls got their hair braided at the hotel from a Jamaican woman who did a fabulous job! Taylor still has hers in.
Jaxson was and is obsessed with his POP POP and loves to be with him and say pop pop all the time.
Another reason I like Myrtle Beach is that it is the mini golf capital of the WORLD! You have never seen courses like these! So big and cool for all ages! Our family loves mini golf so as hot as it was as 10 am in the morning, we suffered it out to go a few times.
As good times always do, the week went super fast and was over before we knew it! The long drive there seemed even longer on the way home.
I cherish these special times with the family all together knowing these are the times of our lives!