Happy Friday Everyone!
I sit here on this frigid December 9th morning in front of my fireplace enjoying the silence and beauty of this holiday season. I am reflecting on this past week and what the weekend holds. Yesterday was my last day of watching Jaxson. As you know I have been watching him for about a month now while he was between daycare's. I will miss my little helper and special decorator as he has loved to help me decorate the house for Christmas although it takes me 3 times as long! LOL I finally have all decorating done that I am doing this year with the exception of our tree which I am going to get today. Since we have lived here we have been getting the tree from the same place, which all proceeds go to the food bank. They have great trees and great prices and super nice vets working to help you find the perfect tree. I am a bit of a challenge for them,(I need a perfect tree) so I see them running when I pull up!
One of my
favorite
memories of getting a tree was in 1995. We were expecting a lot of snow over the weekend and Jim was working late that Friday. I decided I would haul all four kids out to a new tree farm I had heard about and cut ours down to beat the snow. We had always made it a family thing but this year I would surprise Jim and have it all done when he got home from work. Really, how hard could it be right!!!???
WRONG!
When the kids all got home, we hopped in the van and off we went. The kids were 2, 4, 5 and 7! As I drove to the farm, I kept thinking of the movies and pictures where the family goes out to the farm and cuts down their tree in the cold snowy weather and how many family memories we would be making. By the time we got there the temps were in the teens and it was starting to get dark so I grabbed the saw and we started our journey out to where the Frazier furs were, which I had always had before. Oh well no big deal. As soon as the kids were out of the car the reality of this trip began. I didn't remember one of the kids boots so I had to carry a four year old on my hip as there was 6 inches of snow on the ground. The winds were crazy and getting crazier and then it started to snow. By that time the two year old was crying and cold then everyone else followed suit including me! I was running around frantically with two kids on my hips and two hardly walking behind. In pure desperation I just picked a tree and started sawing and sawing and sawing. This always looked so easy when Jim did it but it wasn't easy at all! I swear it took me forever to saw it down and by that point everyone was miserable. This great idea of mine had turned into a nightmare! Anyway, somehow while holding two kids I dragged the tree to the barn that by this time was closed!!!!! WHAT!!??? I had no rope or anyway to get the tree on the roof so I drove up the driveway where the people lived and luckily the man came out and helped me get in on the roof and tied down. Two hours after we had arrived at the farm we got home. I have never been so glad to be home in my entire life!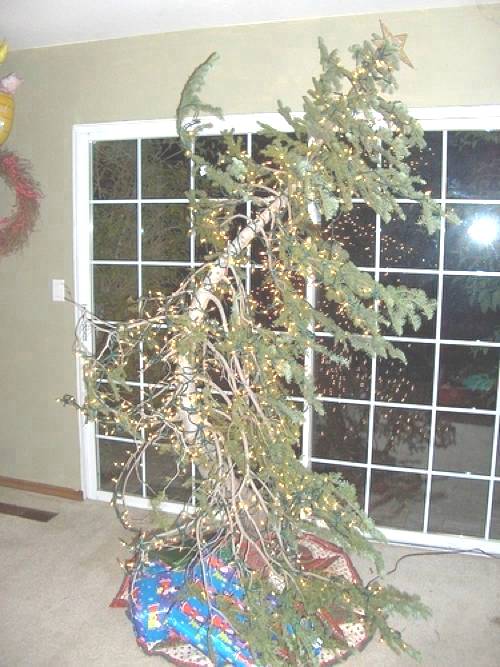 This wasn't the actual tree but I promise it wasn't much better than this! LOL
The next day Jim put the tree up only to find it wasn't a Frazier fur and was very skinny and full of holes which is unlike my trees normally!! I didn't care, it was a tree...needless to say, I have never cut my own tree down again!